Tapijtreiniging hotels door heel Nederland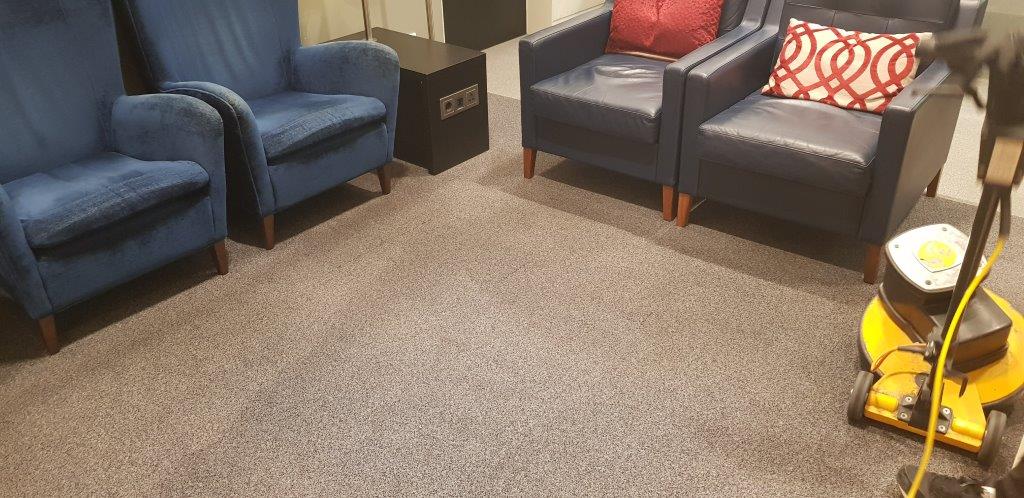 Bent u opzoek naar een professioneel bedrijf gespecialiseerd in het reinigen van uw tapijt in uw hotel? Dan bent u bij UCC Cleaning Services aan het juiste adres. Wij zijn namelijk gespecialiseerd in tapijt reiniging van alle soorten tapijten van hotels. UCC Services gebruikt voor tapijtreiniging hotels een diepreinigende methode die erg effectief is bij allergieën. Wij verwijderen met deze techniek huisstofmijt, de uitwerpselen van de huisstofmijt, haren, bacteriën en geuren. Bij tapijtreiniging in hotels gebruiken wij milieuvriendelijke schoonmaakproducten om het vuil in uw tapijt los te krijgen en fris te laten ruiken. Deze schoonmaakmiddelen zijn veilig voor mens en dier en in omgeving waar voedsel wordt bereid of genuttigd. Tapijtreiniging hotels is erg populair. Door regelmatig uw tapijt of vloerbedekking te laten reinigen verhoogd u de levensduur. Uw tapijt krijgt weer kleur en de vezels komen weer omhoog. Uw tapijt komt als ware weer tot leven.
Voordelen tapijtreiniging hotels UCC Cleaning Services
Het voordeel van de techniek die UCC Cleaning Services gebruikt bij het tapijtreiniging hotels, is dat uw tapijt dezelfde dag nog droog wordt opgeleverd. Uw tapijt in uw hotel is na het reinigen weer fris en hygiënisch schoon. Tapijtreiniging in hotels werkt anti allergisch en UCC Cleaning Services beschikt over een haal en breng service voor uw wegneembare tapijten.
Meer informatie over tapijtreiniging hotels?
Wilt u meer informatie over het reinigen van uw tapijt in hotels? Vul dan het onderstaande contactformulier in. Wij nemen zo spoedig mogelijk contact met u op. U kunt ook bellen naar 023-576 23 95. Wij staan altijd klaar voor passend advies. Naast het Tapijtreiniging hotels is UCC Services ook gespecialiseerd in vloerkleed reinigen.
Tapijtreiniging hotels Drenthe
Tapijtreiniging hotels Flevoland
Tapijtreiniging hotels Friesland
Tapijtreiniging hotels Gelderland
Tapijtreiniging hotels Groningen
Tapijtreiniging hotels Limburg
Tapijtreiniging hotels Noord Brabant\
Tapijtreiniging hotels Noord Holland
Tapijtreiniging hotels Overijssel
Tapijtreiniging hotels Utrecht
Tapijtreiniging hotels Zeeland
Tapijtreiniging hotels Zuid Holland
Tapijtreiniging hotels Amsterdam
Tapijtreiniging hotels Amsterdam West
Tapijtreiniging hotels Amsterdam Nieuw West
Tapijtreiniging hotels Amsterdam Noord
Tapijtreiniging hotels Amsterdam Oud Zuid
Tapijtreiniging hotels Amsterdam Zuid
Tapijtreiniging hotels Amsterdam Zuidoost
Tapijtreiniging hotels Amsterdam Wes
tpoort
Tapijtreiniging hotels Amsterdam Airport
Tapijtreiniging hotels Schiphol
Tapijtreiniging hotels Schiphol Airport
Tapijtreiniging hotels Schiphol Oost
Tapijtreiniging hotels Schiphol Rijk
Tapijtreiniging hotels Amstelveen
Tapijtreiniging hotels Aalsmeer
Tapijtreiniging hotels Hoofddorp
Tapijtreiniging hotels Vijfhuizen
Tapijtreiniging hotels Badhoevedorp
Tapijtreiniging hotels Haarlem
Tapijtreiniging hotels Schalkwijk
Tapijtreiniging hotels Zwanenburg
Tapijtreiniging hotels Lijnden
Tapijtreiniging hotels Cruquius
Tapijtreiniging hotels Hillegom
Tapijtreiniging hotels Nieuw Vennep
Tapijtreiniging hotels Uithoorn
Tapijtreiniging hotels Diemen
Tapijtreiniging hotels Mijdrecht
Tapijtreiniging hotels Wilnis
Tapijtreiniging hotels Weesp
Tapijtreiniging hotels Abcoude
Tapijtreiniging hotels Vinkeveen
Tapijtreiniging hotels Loenen
Tapijtreiniging hotels Loosdrecht
Tapijtreiniging hotels Hilversum
Tapijtreiniging hotels Muiden
Tapijtreiniging hotels Naarden
Tapijtreiniging hotels Bussem
Tapijtreiniging hotels Almere
Tapijtreiniging hotels Zaandam
Tapijtreiniging hotels IJmuiden
Tapijtreiniging hotels Zandvoort
Tapijtreiniging hotels Noordwijk
Tapijtreiniging hotels Beverwijk
Tapijtreiniging hotels Wijk aan Zee
Tapijtreiniging hotels Purmerend
Tapijtreiniging hotels Heerhugowaard
Tapijtreiniging hotels Hoorn
Tapijtreiniging hotels Alkmaar
Tapijtreiniging hotels Leiden
Tapijtreiniging hotels Lelystad
Tapijtreiniging hotels Harderwijk
Tapijtreiniging hotels Gouda
Tapijtreiniging hotels Den Haag
Tapijtreiniging hotels Delft
Tapijtreiniging hotels Zwolle
Tapijtreiniging hotels Kampen
Tapijtreiniging hotels Heerenveen
Tapijtreiniging hotels Wolvega
Tapijtreiniging hotels Den Helder
Tapijtreiniging hotels Enkhuizen
Tapijtreiniging hotels Apeldoon
Tapijtreiniging hotels Amersfoort
Tapijtreiniging hotels Utrecht
Tapijtreiniging hotels Rotterdam