Fire retardant impregnation
UCC-Services specialize in the impregnation of combustible materials to prevent the ignition and spread of fire. Applying fire retardant ensures that in the event of a fire, the fire is hindered and the spread of the flames are slowed down. This will aid escape and increase the flight time in an uncontrolled fire in areas such as hotels and care homes where the chances of survival are considerably increased. The introduction of plastics in the 1960s has significantly increased the risk of fire in our living environment. In a normal house fire, it used to take fifteen minutes from the start of the fire to an uncontrolled fire. Nowadays it only takes two to three minutes for a house fire to become uncontrollable.
Fireproofing areas:
Christmas Trees

Decorations
Clothing
Carpets
Upholstery
Curtains
Artificial flowers
Synthetics
Wool
Wood
In short, flame retardants (fire proofing) slow down the combustion of material, thus preventing accidents that could result in a fire. Flame retardants and flame retardant materials save lives and reduce property damage.
Flametect's fire-resistant solutions are used in public areas such as hotels, cafes, restaurants, shopping centers and cinemas. We are also heavily involved in the maritime sector. This concerns yachts and ships. UCC-Services provide fire proofing services for all sectors. On completion, a certificate of compliance is awarded.

UCC-Services is specialized in providing first class service to all commercial fire resistant requirements for Flametect Netherlands. We specialize in fire-retardant impregnation of combustible materials such as fabrics, clothing, carpet, upholstery, decorations, wood and polystyrene.

We service and apply fire proofing in public areas using Flametect, the green solution to fire safety. Flametect is non-hazardous, water based and sustainable for the environment. Treating products with fire-retardant spray and fire-retardant impregnation agents from Flametect, ensure that fire-sensitive materials catch fire more slowly, self-extinguish and have a delayed ignition.

UCC-Services are a leading fire-retardant specialist, with all operatives being fully certified to apply flame proofing to all sectors. UCC-Services will come to your location or alternatively, we offer a service package where customers can send items to our warehouse where items will be treated and tested. We work nationwide in The Netherlands and have crews on the road daily. When service is required for other areas in Europe, UCC-Services can provide a crew for travel and who will come to the location requested.

All employees of UCC have been fully security screened by the AIVD in connection with activities at Schiphol Airport. For all work performed, we issue BS / EN certification for fabrics, various materials including carpets, upholstery, clothing and wood to name a few.

UCC-Services only work with authorized and certified fire retardants from our leading supplier, Flametect Netherlands. The employees of UCC Services have also followed a strict training course which has been directed by Flametect. As a company we are fully insured for fire-resistant and flame-retardant applications.

Customers for flametect include many film sets and locations across Europe including the BBC, Disney on Ice, Hollyoaks, Silent Witness, EastEnders, Casualty, 5 o'clock Club and regularly working on Netflix productions and blockbuster series such as the Game of Thrones and Vikings.

We can also handle wood and a wide variety of fabrics and materials such as polystyrene, artificial greenery, paper, cardboard and Christmas trees. Should we have missed an area that you are interested in? please don't hesitate to get in touch for more information. We will do our utmost to meet your requirements and to the best standards. We can also offer a cleaning service if required before applying for carpets and upholstery.
Fire retardant certificate
After completing each project, you will be awarded a certificate of compliance in conjunction with the requirements of fire prevention. All services comply with the NEN guidelines set out to cover public spaces, hotels and office buildings. You will always receive a certificate listing the supplied treatment and products used. This will provide proof that you have had the fire-resistant treatment carried out by certified applicators and that the materials in question are fireproof in accordance with the correct standards pertained by law. When the fire brigade requests this during an inspection, you can hand it over and it will list also the date of completion.
Fire retardant impregnation for companies and individuals
UCC-Services offer its impregnation services to commercial companies and also domestic customers. A certificate is not required for private individuals. If you, as a private individual, would like to impregnate your Christmas tree or other combustible material indoors, you can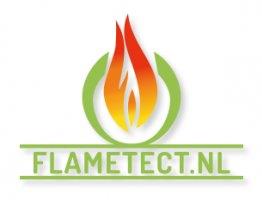 do that yourself and buy the sprays direct from flametect. At flametect.nl you will find a variety of fire-resistant impregnation products.

Would you like to know more about making textiles, plastic or your Christmas trees, Christmas decorations and other decorative materials fire-resistant? Or receive a quotation? Please do not hesitate to contact us. We are happy to advise you!